This borderless, digital age has undoubtedly increased the level of cut-throat competition among businesses. With the growing rivalry among and between local and global competitors in online commerce, how can you compete and penetrate new markets as an e-commerce business owner? One great way is by localizing your website well.
Since the recent pandemic began, the need for online services and digital conveniences has intensified manifold. In the past year, the e-commerce industry has experienced a 10-year growth in just three months. It was found that retail e-commerce sales have grown by nearly 17% worldwide, with 18.1% in North America, 21.5% in Central Europe, and 15.5% in the Asia Pacific. This is an urgent call for businesses to reach farther and wider markets, and embrace the need for a special focus on localization.
Read more as we cover this topic in three parts: (1) What e-commerce localization is, (2) the benefits of localization, and (3) 6 ways you can localize your content for better user experience.
What is E-Commerce Localization?
Localization in e-commerce is the process of adapting the content of an online business according to specific target regions. This includes the adaptation of texts, graphic assets, layouts, and any content displayed on the platform.
The goal of localization is to help users connect, relate, and resonate with a product. Especially in e-commerce, it is important for expanding cross-border businesses to tailor their content to match the pain points of each local market.
Localization isn't Just Translation
Localization is often oversimplified to mean mere translation, but translation is simply one part of localization. Translation is the process of converting text to another language while maintaining meaning and context, which are integral parts of localization. Localization, on the other hand, is much more extensive.
When localizing a product, you don't just modify language. You also consider how your product aligns and resonates with your target customers. Key elements on your e-commerce platform should reflect the local environment to provide the best possible customer experience. This is where your UI/UX design team taps into user empathy as they customize your website's experience according to the pain points of your target audiences.
Localization is Personalization
Psychologically, people tend to engage more with things that directly relate to them. The same goes for content in e-commerce. Localizing an e-commerce website means using their language to communicate and offering products and services that appeal to them.
Let's look at how Amazon, one of the e-commerce giants, has successfully localized its website across different regions.
Instead of making their website look the same no matter where a user is browsing from, they've designed each localized webpage according to the target market. As we can see in the examples below, the design of the American site differs from the one for Japan and India. Especially on the hero images, each homepage focuses on a different variety of products according to the local market's current preference.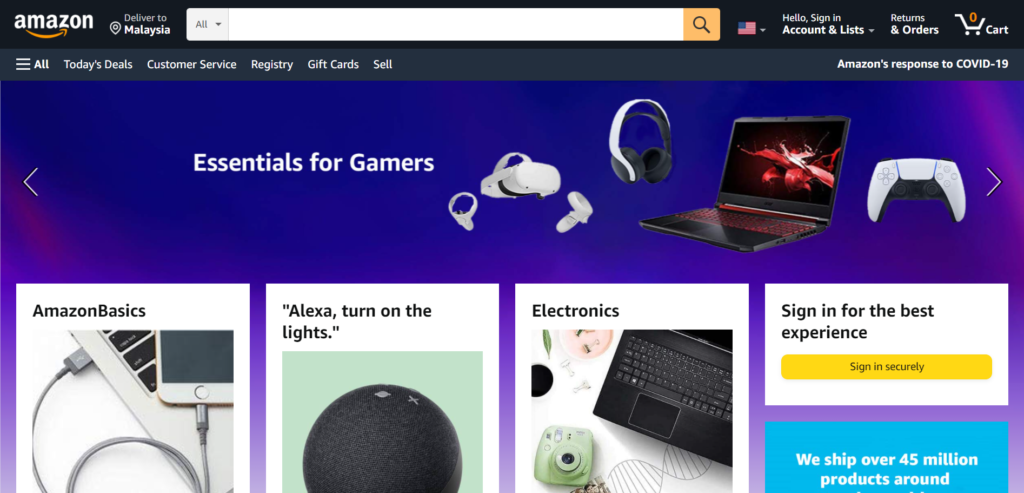 Amazon USA's homepage focuses on electronics and essential gadgets for gamers.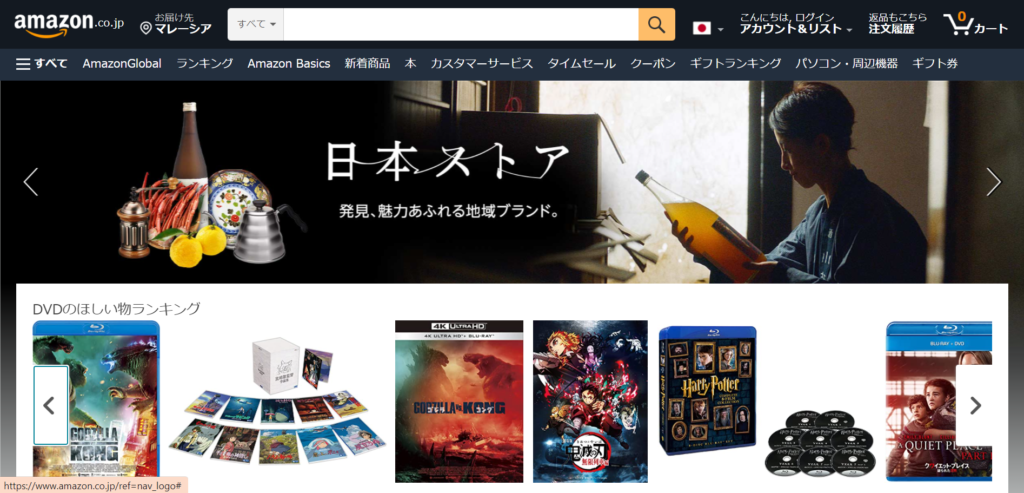 Japan Store is the highlight on Amazon Japan, featuring local Japanese products from all over Japan.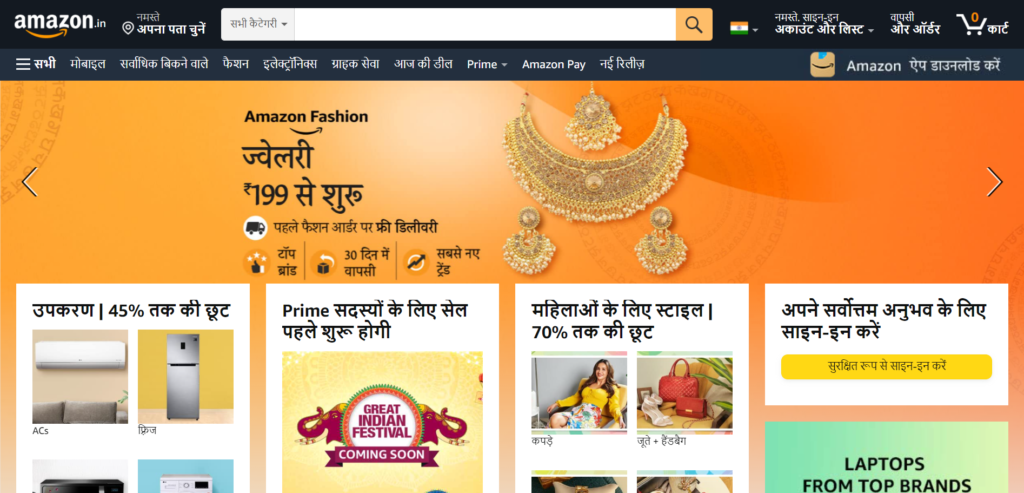 On Amazon India, the homepage features Indian jewelry as the Diwali festival is approaching.
The Benefits of E-Commerce Localization
Why does localization matter? Does it make that much of a difference if an e-commerce experience is personalized? Yes, and here are 3 great reasons to get your website localized.
Expand to new markets
Customers are much more likely to be open to a product or service if they're able to resonate with it — be it through language, graphics, or content. When the localization work is careful and deliberate, companies are able to penetrate new markets and acquire new patrons more easily.
Boost customer satisfaction
Thoughtful localization minimizes the barrier between the brand and their new and potential customers. Shopping is a much more pleasant and familiar experience for customers when content is personalized and tailored to their preferences.
Increase brand loyalty
Actions speak louder than words. Business localization reflects well on a company's commitment in ensuring customers get the best shopping experience. And what often follows is trust and brand loyalty. Localizing the user journey can do wonders in both converting leads and retaining customers, widening the opportunity for increased revenue growth.
6 Key Elements to Localize on Your E-Commerce Platform
The failure to adapt local culture into your platform could be detrimental to your brand ethos, especially if you already have international customers. Continuously allowing your customers to feel alienated in any way is harmful to your overall brand perception.
How do you avoid taking that risk and ensure that all bases are covered? Here are 6 key elements to pay special attention to when localizing your website for better customer acquisition and retention.
1. Language
One of the first things you should prioritize in your localization strategy is language. Which language does the target market use? If there's more than one, should you include all of them?
Even though English is a global language, a survey conducted by CSA Research shows that nearly 70% of international customers still prefer to see content in their mother tongue, and 40% would only buy from sites in their native language.
For example, multiple regional languages other than German are available in the language selection dropdown on Amazon Germany.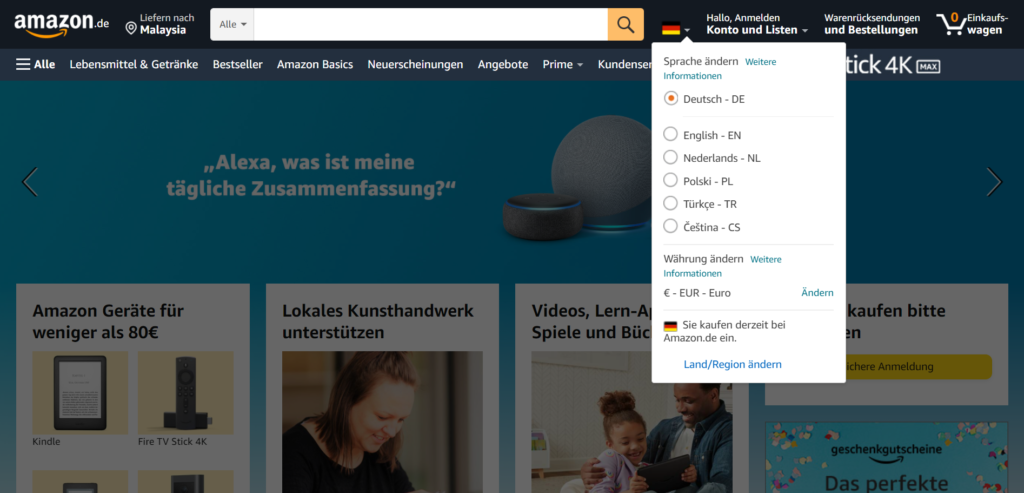 Incorporating more than one language into your website is not as simple as getting Google Translate to do all the work. Though machine translation is great for lightening the load, linguistic and contextual nuances can easily get lost in translation. More often than not, natural and accurate results in translation can only occur with a human touch.
2. Formats and Design
Unfamiliar formats that are hard to mentally navigate give shoppers a good reason to quit and shop elsewhere. For this reason alone, information like dates, time, currencies, and measurements must be localized and conveyed in a way that is familiar to the target user.
Since price is a major factor in the average consumer's purchasing decisions, displaying prices in localized currencies is extremely important. Believe it or not, the one extra step involved in manual price conversion is enough to turn a customer away. According to a study by E4x eCommerce, the majority of online shoppers are aversive to USD-only pricing and prefer to shop at stores that display prices in their local currency.
Apart from currencies, measurement units are also important to localize. The product titles for water bottles include the containers' capacity in ounces/gallons (Oz/GL) on Amazon USA and milliliters/liters (mL/L) on Amazon UK. Pricings are also displayed in their respective currencies.
In some cases, localization goes beyond text and content. Design has also got to do with it. When incorporating a new language into your website, the design and layout should work in tandem with that language, considering attributes like line spacing and the positioning of navigation buttons.
Arabic, for example, is written and read from right to left instead of left to right. And so the Arabic version of the Amazon UAE web layout is mimics that attribute. Everything is mirrored — the Amazon logo, sidebar menu, navigation pane, search bar, shopping cart button, as well as the location and language button.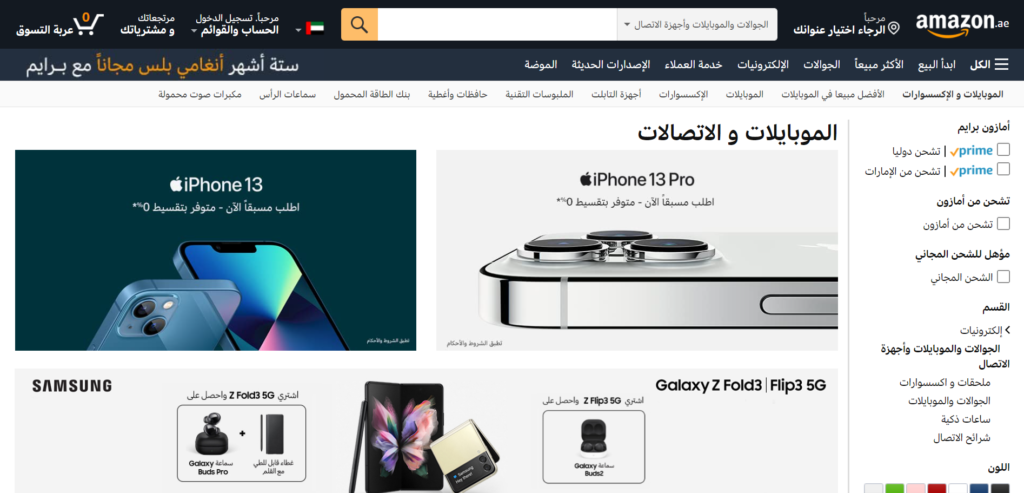 3. Customer Service and Support
Every culture has its preferred modes and channels for communication. Finding the perfect ways to communicate with your international buyers and prospects isn't just about language. It involves understanding their most popular tools and how those tools function in a local context.
For example, customers from one country may prefer WhatsApp for instant communication, while customers from another may prefer to receive SMS messages or emails instead.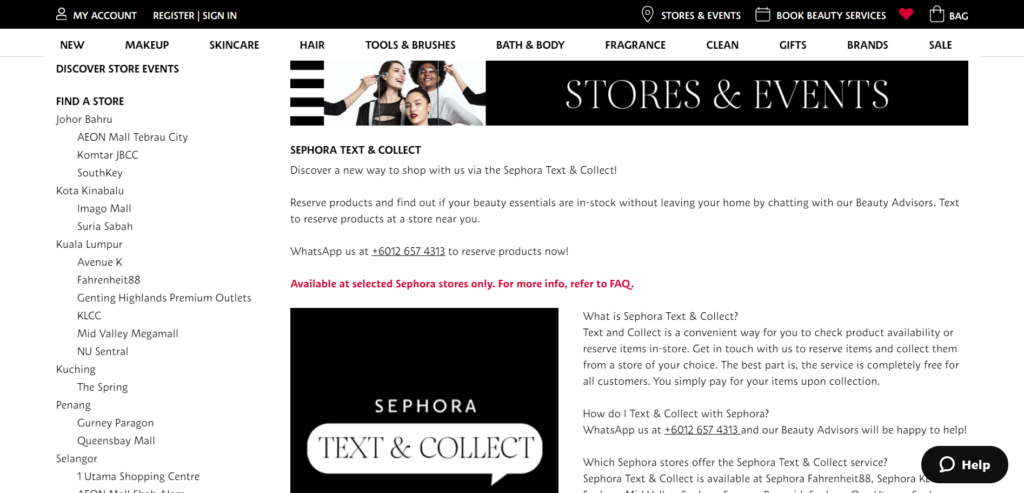 For instance, in the example above, Sephora Malaysia offers Text and Collect services that enable instant messaging and collection arrangements via Whatsapp. Why? Because 97% of the Malaysian population uses the messaging app daily.
4. User-Generated Content
User-generated content fuels the shopping journey. In e-commerce, this includes ratings and reviews. Ratings and reviews play an important role in influencing customers' purchase behavior. On average as of 2021, 70% of online shoppers read about six reviews before making a purchase.
When shopping digitally inhibits one from physically inspecting products in person, the closest thing they can rely on is another consumer's opinion. Beyond product descriptions and heavily processed studio photos, the best way to do so is by looking at ratings and reviews.
Localizing reviews involves not only allowing customers to see reviews from other regions, but also breaking the language barrier. Enabling auto-translation on reviews is extremely important. Otherwise, displaying
reviews in the users' desired language first can also help them feel at home.
5. Seasonal and Festive Campaigns
In 2020, the Great Indian Festival sale on Amazon India had garnered a whopping $8.3 billion in gross sales, and saw 88% customer growth from the previous year. This is why seasonal events and promotions are a strong marketing strategy in e-commerce.
Both offline and online, it is and has been one of the best ways to drive customer acquisition and retention rates. Not only do they boost sales, they enliven and color brand personalities as a whole.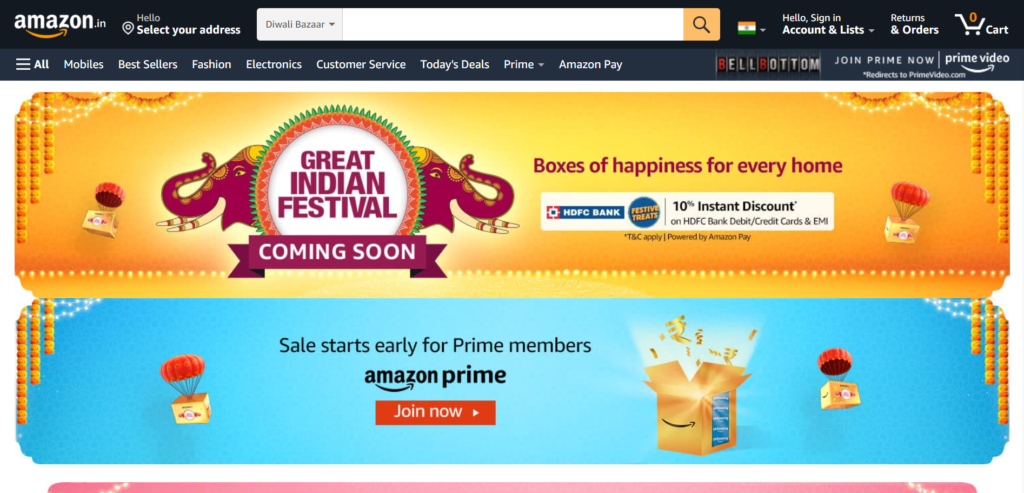 As such, festive campaigns are one of the essentials to localize. The same way a Malaysian customer isn't going to relate to a Polish seasonal banner, a Russian customer isn't going to find a Taiwanese festive discount relevant to them. Displaying inapplicable events and promotions to users would only evoke a sense of isolation and detachment in them.
With that said, when localizing an e-commerce website, there needs to be thoughtful deliberation. It is important to learn the significance of particular seasons in their respective regions, as well as understand their sensitivities. And for utmost authenticity, localized content should be handled by none other than a local representative or team who understands local customs first-hand.
6. Checkout Page
The checkout experience shouldn't be at all unfamiliar, unwelcoming, or disorienting. Failure to display local currencies, enable local payment methods, or estimate accurate shipping times — these are negligences that reflect badly on any e-commerce site.
How should one localize a checkout page? Aside from language and currency, shipping information, taxes, and payment methods should be tailored according to the customer's location.
(a) Shipping Information
Automated estimation of shipping times and fees should be based on the customer's location, taking into account both international and local commute.
(b) Taxes
Taxes vary by country and must be presented in a way that customers are accustomed to. Otherwise, you risk seeing higher abandonment rates with questionable transparency.
Note that taxes in the US are separate from the subtotal as the taxable amount differs across states. In the EU however, as seen in Nike Germany's order summary, the subtotal is inclusive of Value Added Tax (VAT).
(c) Payment Methods
Limited payment methods have a negative effect on purchasing behavior. Customers are more likely to complete their purchases when they can perform transactions hassle-free.
The best way to provide a seamless and localized payment experience is to enable all applicable cashless methods by default (credit/debit card, online banking, and e-wallet) and hide the methods that are inapplicable in particular locations. On top of that, it's important to enable popular payment channels in each location.
Let's compare Nike USA and Nike Germany again. We can see that both regions enable card payments, Paypal, and instalments through Klarna. However, Nike Germany enables online banking transactions through Sofort, which is a popular payment gateway in Germany.
Reach New Heights With Us
Putting together an excellent business expansion plan is a daunting venture — it's a lot of change. But dare to dream, because we're here to help you bolster your growth.
As Malaysia's top app and web development agency, Snappymob is a team of UI/UX experts that are ever ready to help digital businesses launch, expand, and explore web and mobile solutions. Check out our work here or drop us a message about your business ideas!
If you liked this, you may also like: