When it comes to mobile system updates, keeping a close eye on upcoming changes in mobile operating systems is crucial for app marketers to stay ahead of the wave. Since there are over a billion of active iOS users across the globe, paying attention to iOS updates is undoubtedly a wise thing to do.
In September, the world was introduced to iOS 14, one of the biggest updates in Apple history. This new operating system brought in an array of new features such as home screen widgets, an app library, threaded messages, picture-in-picture video playback, and a compact UI redesign of phone call notifications — a feature everyone was waiting for.
How has this changed and challenged the app marketing landscape?
Let's identify the few features that are a must for app businesses to be aware of in order to maximize acquisition and retention rates.
Make Your Pitch with App Clips
Apple has finally joined Android on the Instant Apps bandwagon, except with a different name.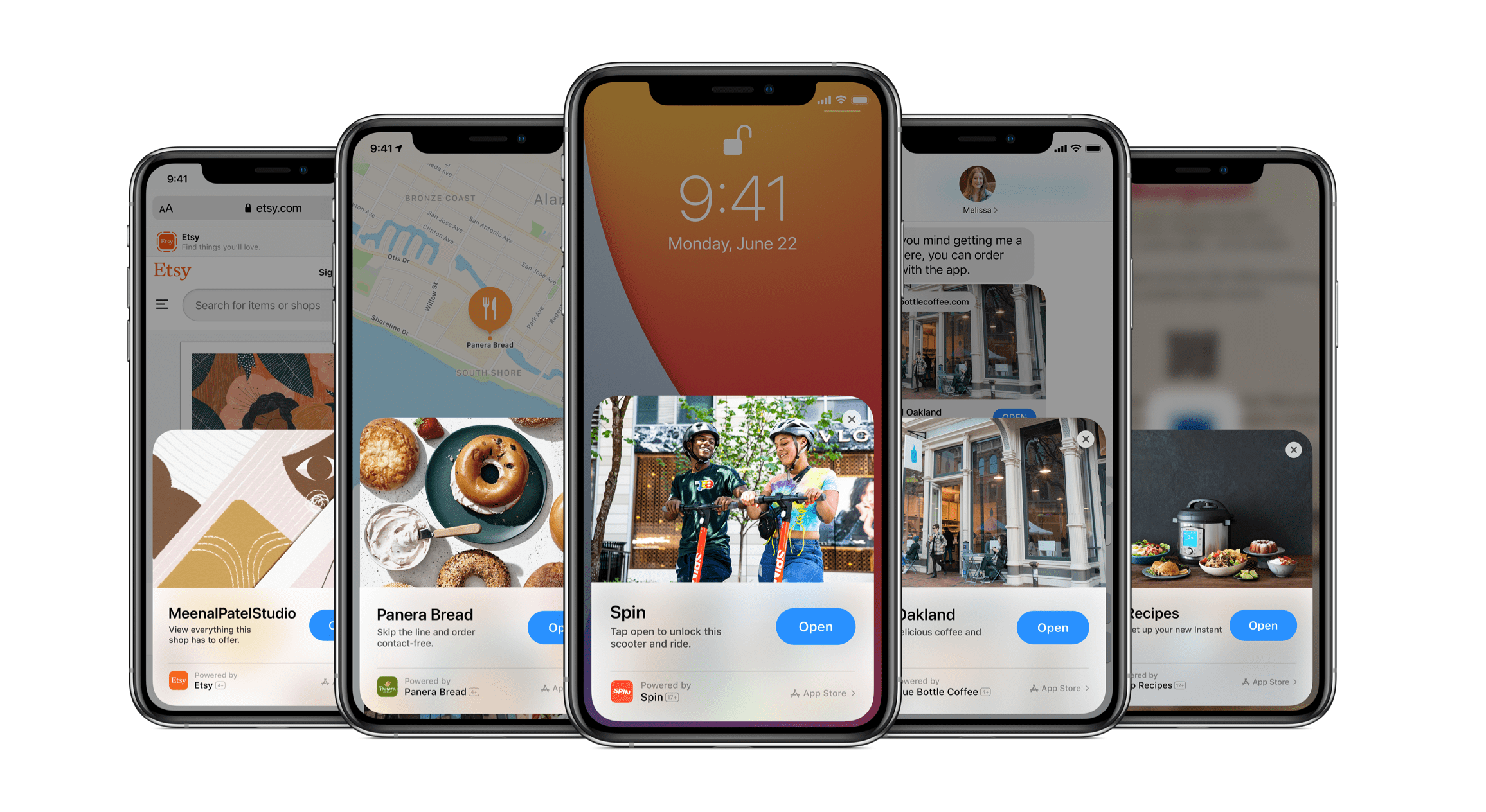 (Image Source: Apple)
Apple's new App Clips allows users to get an immersive preview of an app, without having to download the entire app. They're like a lite or mini version of an app that offers users an experience of its main or selected functions. Apple describes them as "a small part of your app that's discoverable at the moment it's needed".
This is great because most iPhone users are picky about storage. If they had to download a whole app just to complete an action, they probably wouldn't. That's why App Clips work wonders — users are able to start and finish an experience from your app in seconds.
Here's how it works: Let's say a user is looking for a pasta recipe, and they find one on your platform. With the App Clip option, they can get the recipe from your app without having to download your app. And when they're done, you can offer them the option to download your full app from the App Store.
App Clips are pretty much like a quick sales pitch that, if done correctly, can be a hit on conversion and activation numbers for product marketers. Taking advantage of this feature can definitely drive visibility and installs.
If you're interested in creating an App Clip for your app, check out Apple Developer's guide on creating App Clips with Xcode.
Avoid Getting Stuck in the App Library
To the right of the last page on the iOS 14 home screen is where users find their app library, where Apple groups all their apps by category so they don't have to do it themselves.
With this new feature, users can now hide an app in the app library if they don't want it on their home screen. This presents a new challenge for app businesses — it's a new type of competition; it's a fight for the home screen.
For mobile marketers, app downloads are simply a vanity metric. Having a steady stream of engagement and strong user retention is what makes an app a real success. If your users find your app valuable and engaging, you can rest assured that it will be deemed worthy of a place on the home screen.
Now is the time to get creative. Focus less on downloads and more on improving user engagement. Leverage different marketing channels like push notifications to keep your users coming back.
Jump on the Widgets Train
The moment iOS 14 launched, the internet went crazy. It was post after social media post of iPhone users sharing their customized home screens with widgets, layouts, and personalized app icons. It was a new and exciting experience of aesthetics and functionality for iOS users, and it still is.
Apps like Widgetsmith and Sticky Widgets blew up, and other apps caught on too, including Merriam-Webster, IMDb, and Wikipedia.
How can widgets help to drive engagement from your current users?
A home screen is the first thing users see when they unlock their phones, and it can only fit so many apps and widgets. To put it simply, with widgets, it's also a battle for the home screen. A user is only going to put your widget on their home screen if it provides them information and functionality (or as Apple calls it, "relevant, glanceable content") that adds value to their daily lives.
One way to find out what content you should integrate into your widgets is by looking at your user's engagement data. Which types of content most frequently lead to action? Knowing your users will help you make the best decisions to serve them.
If you're interested in creating widgets for your app, check out Apple Developer's guide to widget creation.
Next Step for You
App marketing remains an important effort for every business that owns an app or plans to build one in the future. Whether you need an app built or are in search of an app strategy consultant, Snappymob is here to help.
Discuss your vision with us!
If you liked this, you may also like: