What is "Zoombombing"?
If you're a student or working in the corporate world, it's almost inevitable that you've used Zoom — the audio and video-conferencing app that's taken the digital world by storm since the turn of the pandemic — but in case you haven't, here's what it does.
What is Zoom?
Zoom is a free teleconferencing app developed by software company Zoom Video Communications, based in San Jose, California. From its original inception in 2011 by founder and CEO Eric Yuan, former Cisco Systems employee, it has since achieved the title of a "unicorn" company; a term used to denote a private start-up with a valuation at over $1 billion.
It offers free 40-minute meetings of up to 100 attendees, which, when combined with its compatibility with a diverse range of operating systems and intuitive UI, has served to propel Zoom to the top of the Apple store; indeed, it had the highest number of downloads of all apps in 2020. And from December 2019 to March 2020, right when COVID-19 was just beginning to emerge before rapidly dominating headlines around the world, the number of people using Zoom daily increased an enormous twentyfold from 10 million to 200 million.
The burst in popularity that Zoom has garnered as the pandemic has unfolded comes as, arguably, no surprise; COVID-19 restrictions have effectively shooed everyone indoors, limited physical interaction, forcing millions globally to seek virtual means by which to socialise (with good reason, of course). And not only has the demand for other similar audio and video-conferencing apps seen an increase, but so too across other categories, such as food delivery and e-commerce (although the same may not be said for, say, travel and tourism, for example).
Given the widespread prevalence amidst current times of using Zoom to connect with others for anything and everything from meetings and classes to weddings and even happy hour, concerns regarding data security and the confidentiality of one's personal information have inevitably been raised.
Critics have questioned the app's capability to handle such a large influx in volume of traffic resulting from the pandemic, and although these uncertainties have been addressed, for the most part, by Mr. Yuan in this blog post, users still have lingering doubts; perhaps partly due to the media's coverage of incidents known as "Zoombombing".
What is Zoombombing?
You've probably heard of "photobombing", but what is "Zoombombing"? The term, originally coined by the United States Federal Bureau of Investigation (FBI), describes when a Zoom meeting is hijacked by uninvited participants.
Although it can be nothing more than harmless but annoying disruptions from mischievous juveniles and internet trolls, such incidents can also take on a darker and more malicious nature, such as harassment or the display of disturbing or graphic content.
How Does it Happen?
In the majority of cases it's an inside job, meaning invited participants have shared the meeting details to outsiders. Most of the time it's students deliberately sabotaging a class for the sake of humour, or perhaps out of boredom. Having said that, concerns surrounding Zoombombing have been enough to spark organisations such as the likes of NASA, Google and the Australian Defense Force to ban the use of Zoom as a form of internal communication.
How to Avoid Being Zoombombed
So what measures can we take to prevent being "Zoombombed", and what can we do to make sure that our private information is safer in general?
1. The "Waiting Room" Feature
Zoom's "Waiting Room" feature works by giving the host full control over when and who joins a meeting.
They have the option to either admit attendees one-by-one into the meeting straight away, or into a waiting room, where the host then admits all participants at once, when all invitees are present.
Either way, the host is able to manually verify and approve the identity of each user. Here's all the information you need to know on how to enable it in your next Zoom meeting.
2. Password-Protect the Meeting
Although this is not entirely foolproof as legitimate participants can still share the password with those un-invited, it is still safer than not having a password at all.
Pranksters or hackers can search for URLs online that include "Zoom.us" and target those with no password protection, or follow meeting links posted on social media sites, making it relatively easy to Zoombomb such conferences.
Password protecting the meeting is a simple measure you can take for an added layer of security; you can learn more about Zoom's password options here.
Alternatively, the host also has a multitude of other options at their disposal, including, but not limited to, preventing participants from screen sharing, muting them and/or stopping a participant's video.
How Can I Protect Myself Online?
Whether you're worried about your personal information potentially landing in the hands of strangers with ill-intentions, or you'd just like to be more cybersmart where you can, here are some easy steps the casual user can take to reduce the chances of identity theft.
Creating a strong password that's different for every account you have is important in ensuring that should someone know the password to one, your other accounts are not also compromised. However, it might be difficult for some to keep track of all the different passwords they have. This is where a password manager might come in handy.
Here's a comparison of the best password managers for 2021.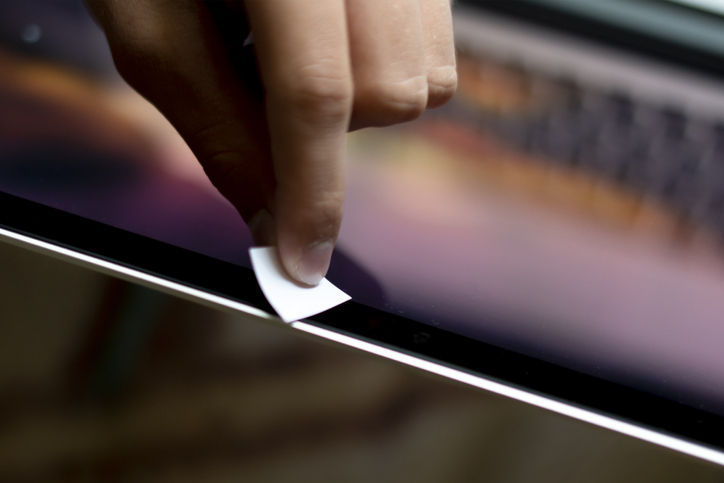 It may be worth noting that despite what the above image might suggest, Apple recommends not using sticky notes or other attachable objects to cover your laptop webcam as it may damage your device's closing mechanism.
Although they assure users of the green light's reliability to indicate recording, if you still wish to cover your webcam for peace of mind, they suggest you use a material which does not leave a residue, and to remove it prior to closing your laptop.
We're With You Side-by-Side at Every Step
Privacy and safety is paramount to the success of any web or mobile app, especially for accessibility's sake.
Even though data security can seem like a daunting venture to tackle in your next project, our team of dedicated software specialists here at Snappymob are ready to help with their extensive expertise.
Reach out to us to discuss the ways we could best serve you!
If you liked this, you may also like: