For over a decade, Snappymob has been crafting exceptional UI/UX designs for companies transcending industries. And over 50 projects later, we've established ourselves as the premier choice for website design services, renowned for our full-service solutions.
With an emphasis on weaving user-centric designs into our clients' websites or mobile apps, we've delivered nothing less than UI/UX excellence. But what sets us apart as THE best web design agency in Malaysia? That's a tale we're eager to share.
What Sets Us Apart?
Located in the heart of Kuala Lumpur, where we're based, many UI/UX design companies are vying for supremacy in web design services. Yet, Snappymob is firmly planted as the best choice for website and mobile app designing, with many of our clients advocating us as "a great partner in delivering great user experience."
Now, what distinguishes us from the rest?
For the most part, we're not mere designers; we're passionate and empathetic people who prioritize a human-centric approach to our designs. For every project we undertake, we harness the power of emotional connections and brand loyalty to create personalized experiences for our clients' users.
In addition to visually appealing design, we ensure that our products reflect users' unique needs well. Promising a seamless user experience.
As a result of upholding high standards for our work, the quality remains uncompromised. Through our practice of solid design thinking and leveraging advanced modern tools, we stand at the forefront of innovation.
Not to mention, our team's comprehensive expertise forms the backbone of every project, ensuring creativity and functionality elevate your brand to new heights. With Snappymob, your digital presence becomes a canvas where setting your brand apart is an attainable goal.
Our Design Process
Snappymob's position as the dominant web and mobile design agency is indisputably rooted in our design process. It establishes the project's goals and empowers us to translate our clients' digital visions well into our work. It is the direction ensuring perfect alignment between our clients and us, guaranteeing we share the same unwavering commitment to the end goal.
Step 1: Discover Phase
In the discover phase, our single objective is establishing the foundation of a design project. To accomplish this, we adopt a dual approach, understanding, and research to guide our decisions. It sets our minds into a user-centric focus before project commencement.
With understanding, we seek to develop an idea of the stakeholder's product vision, goals, and contextual landscape. Simultaneously, we work to understand the stakeholder's described user activity, pain points, operational processes, and proposed solutions that achieve the best competitive advantage.
Our research strategies are comprehensive, encompassing both quantitative and qualitative methods across various facets, including (but not limited to) business, market, functional, and design. This process entails analyses of several factors. Competitors, related solutions, trends, and inspiring elements are some of them, but they may extend to other facets of the client's industry if needed.
Step 2: User Journey & Requirements
Once the project roadmap is determined, we detail the user journey and requirements. This is when we start to truly immerse ourselves in the user perspective. We first define our user personas through research and interviews.
From here, we explore the user journey. We identify, ideate, and draft critical paths of the end-to-end user journey and create the essence of the desired product.
Through this process; shaping, defining, and prioritizing requirements based on said user journeys, resources are optimized. This approach not only enhances the user experience but also streamlines development.
The outcome — initial drafts of mature product requirements. These requirements then facilitate and ensure an efficient development process. Thus maximizing our client's resources and ensuring unparalleled user satisfaction.
Step 3: User Experience Definition
The User experience definition focuses on creating and improving user flow. In this phase, we aim to achieve a seamless and intuitive user experience. We comprehensively define and prototype scenarios that users possibly get into with the product and refine accordingly.
Eventually, we'll transition from prototype scenarios to testing critical scenarios with representative end-users or surrogates. This process is what we call user flow validation, where we validate user flow and design by experimenting with a small sample of beta users.
These are executed to ensure the product is built with a user-centric approach. Where potential issues and inefficiencies are identified and addressed upfront. Hence enhancing user satisfaction.
Step 4: User Interface Definition
Alongside user experience comes the user interface. In the user interface definition phase, we craft the visual aesthetics of the product. It's all about defining and refining our client's product's identity, look, and feel. From brand messaging to design language, we cover all aspects of the user interface elements to ensure branding consistency.
Our comprehensive approach to user interface definition results in a user-friendly, intuitive design, enhancing usability and broadening our client's product accessibility to a diverse audience. In tandem with that, an aesthetically pleasing visual creates positive impressions, increasing user engagement and satisfaction.
Our Design Services
We pride ourselves in our ability to deliver end-to-end service perfectly tailored to our clients' unique needs. We're not merely skilled but also well-versed in a multitude of design disciplines. This deep well of knowledge and expertise allows us to craft solutions that address our clients' design challenges.
UI/UX Audit and Design Research
Great design is the solution to a problem, so we take researching and understanding the problems our clients' products face seriously. Through UI/UX auditing, we identify lacking elements and suggest ideas to apply to our clients' products. We'd conduct market, user, and competitor research to refine the ideas and help us decide the best ones for designing, helping our clients get closer to their goals.
Design Concepts
Design concepts are the blueprint for our clients' desired solutions. We assist in visualizing and compiling our ideas into one cohesive design. It provides a clear, visual way to explain design ideas, giving clients a tangible understanding of the project's direction.
Design Systems
With design systems, we develop a collection of guidelines, assets, and design elements for referencing during product creation. We create design systems that streamline product development, ensuring efficiency and consistency.
Prototypes
Prototypes are utilized to simulate the functionalities and user experience of the product before development. It helps clients and designers identify and address usability issues, avoiding costs. From simple sketches to realistic demonstrations, we provide varying prototypes for our clients to envision the outcome better.
Branding
A well-defined brand identity improves recognition, trust, and engagement with a brand's potential customers. We offer across-the-board branding solutions, encompassing style guides, typography, color palettes, and communication strategies – among others.
The Art of Design Excellence
Action speaks louder than words. For us — our design portfolio is a testament to our expertise. With 11 years of experience, we've dabbled in several design projects in various industries. Our design legacy is a collection of UI/UX solutions that continue to garner rave reviews even after all these years.
1. Minelog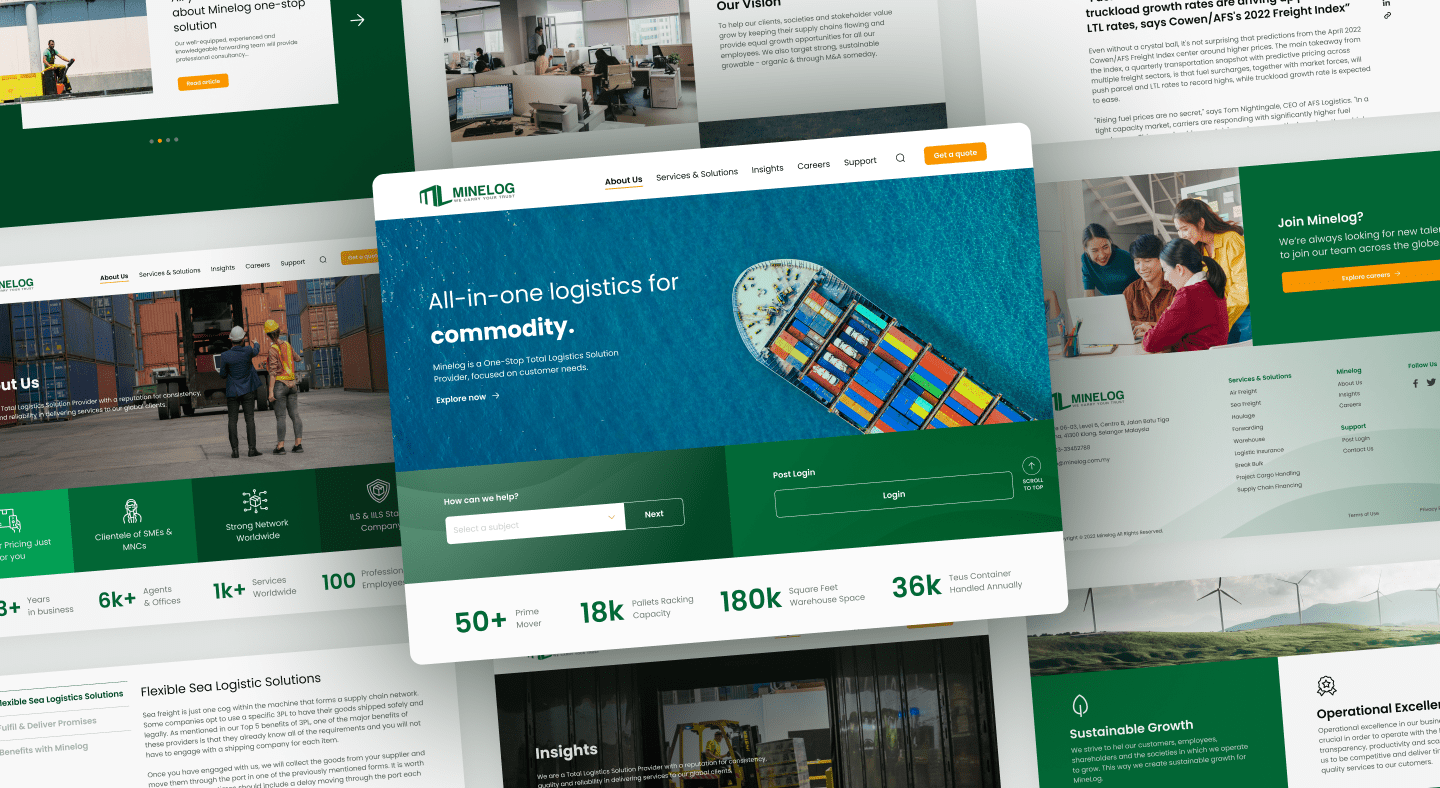 To maintain its competitive edge in the logistics industry, Minelog recognized the imperative need for a website modernization. Unlike our prior projects, Minelog's redesign presented a unique challenge, and we delivered as promised.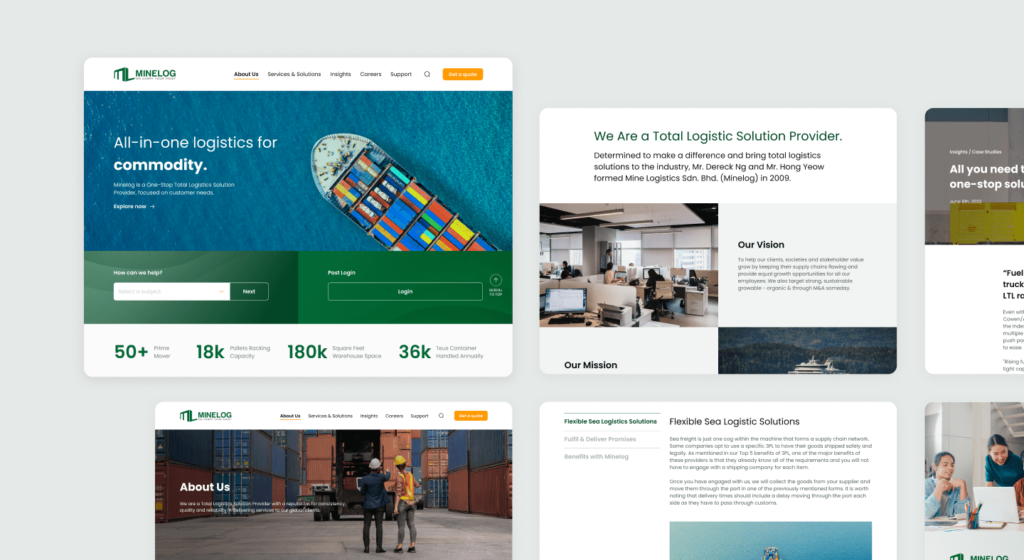 Our journey began with a singular objective: to craft a sophisticated and cutting-edge website with a streamlined and user-friendly interface. However, our commitment to putting our partners' best interests first urged us to go beyond the ordinary. With their approval, we embarked on a comprehensive transformation journey, optimizing website speed and refining the onboarding process to ensure a seamless user experience.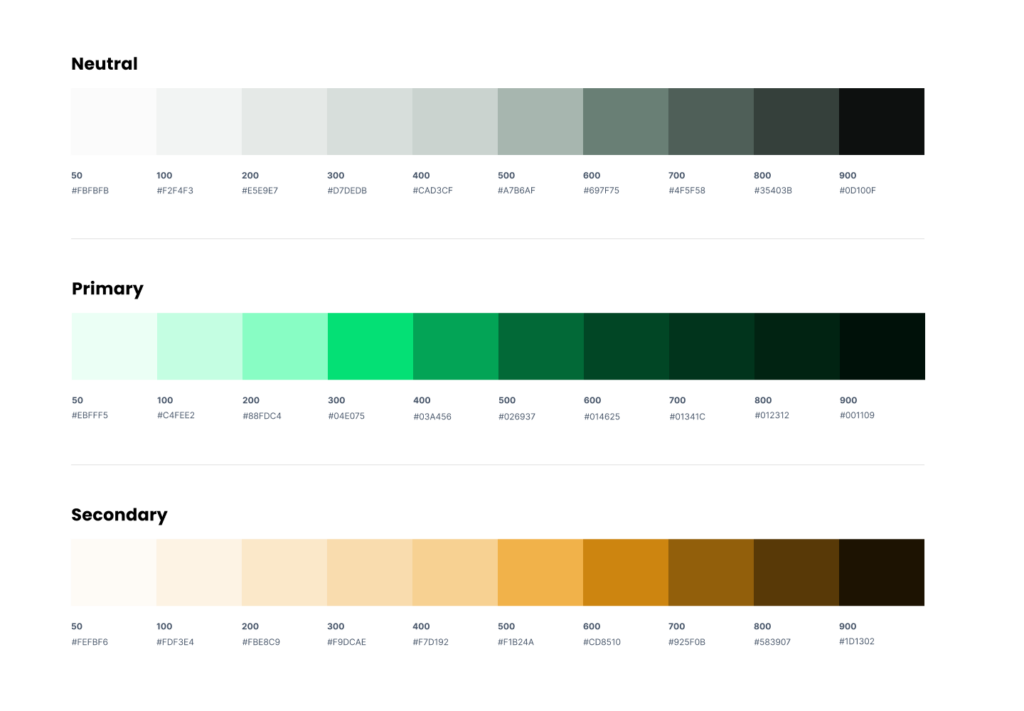 Additionally, we meticulously crafted a brand-new identity for Minelog's online presence. It encompasses a color palette that perfectly blends Minelog's corporate colors and the industry's best practices, refined typography, thoughtfully balanced spacing, and captivating imagery. This project exemplifies our dedication to delivering solutions that meet and exceed our partners' expectations.
2. Suria FM
After being in the market for over 15 years, the Suria Radio App was falling behind on its UI/UX design. Lacking components that'd associate well with their 25-35 target audience, they decided it was time for a revamp. Taking their target audience and the current trends into consideration, we implemented the following design improvements
For starters, their newly redesigned app incorporates a dark mode option. This increasingly favored mode is appealing to the younger generation mostly due to its modern and edgy look. Noting this fact, we suggested including this feature in the app's new design.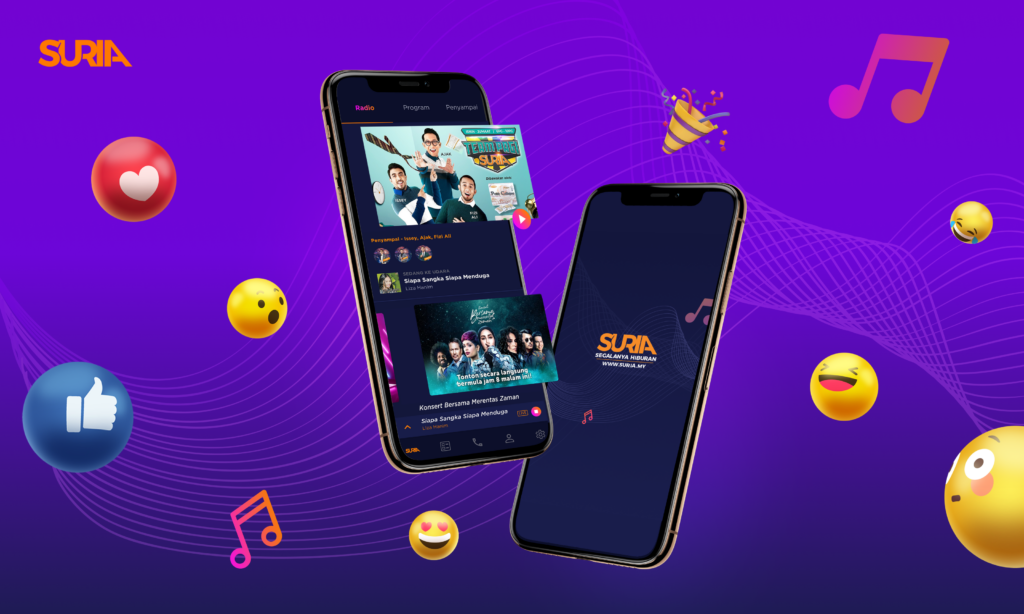 As a result, we crafted a new branding kit to suit the dark theme. From a color palette to icons, we designed new elements that were enhanced versions of the Suria FM colors to make them compatible with the dark mode.
Regarding user experience, we improved the app's home page to a more intuitive design. A minimal layout with an added new section, Now Playing, makes navigation on one page easier.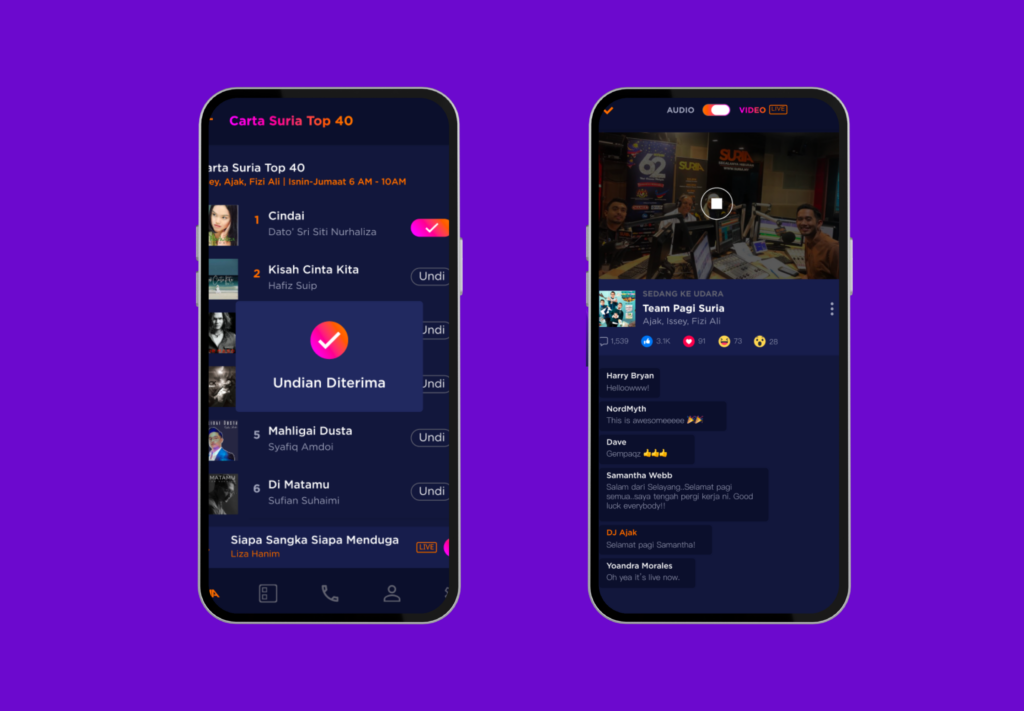 Other notable improvements include a live audio-to-video toggle switch, an engaging voting section, an organized catch-up play function, and a chronological content arrangement. An in-depth case study of this project can be found here: Suria FM Radio App.
3. 988
The 988 radio app was a first for us in the sense that we were to develop a completely new app. With 988, they already had ideas on standby to elevate their user experience and engagement. Their initial ideas were mostly focused on incorporating new features like catch-up play and live video functions, a podcast section, an emphasis on news content, and a user rewards program.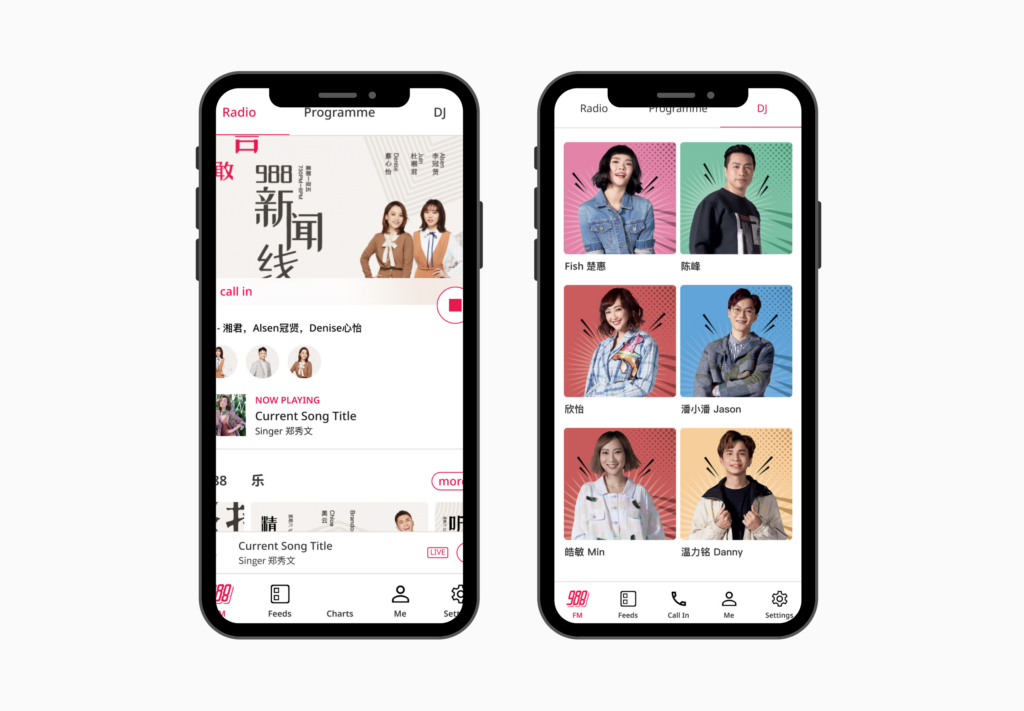 With the requirements established, we expanded the ideas according to our knowledge of the industry's best practices. We filled in the design gaps and improved functionality by improving usability issues and smoothening the user flow. We decided a simple and intuitive design would work best to ensure smooth navigation.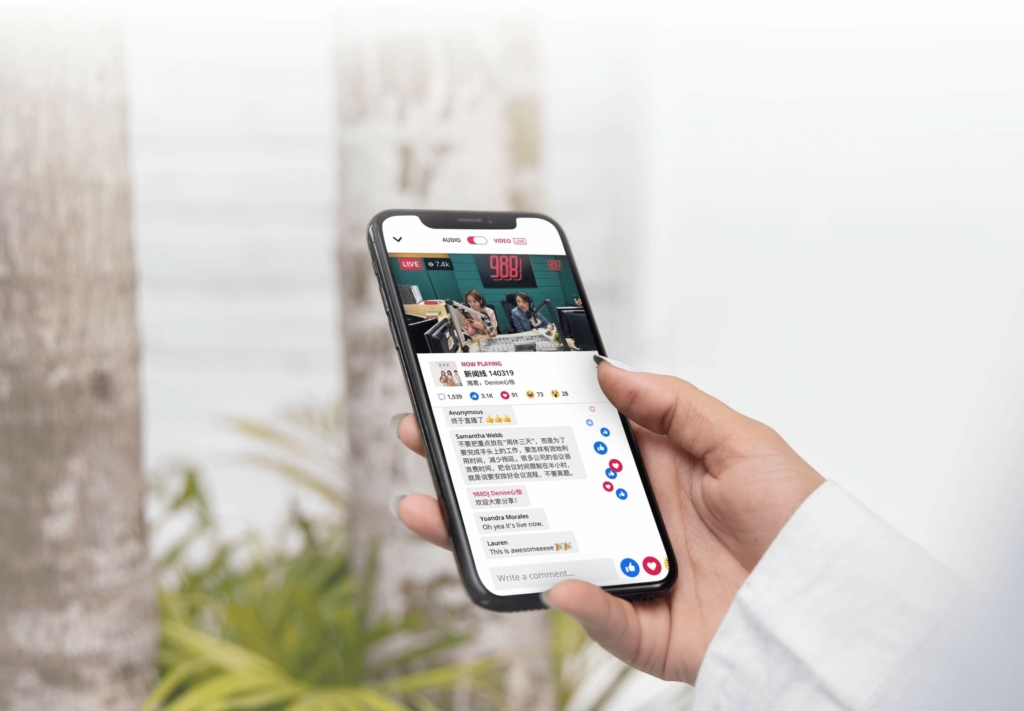 We're also the first to offer seamless switching between live audio and video in a full-screen experience with the app. This simultaneously sets a new industry standard. Users now enjoy live broadcasts while actively engaging with real-time comments and reactions. Enhancing the streaming experience for longer user retention.
4. BFM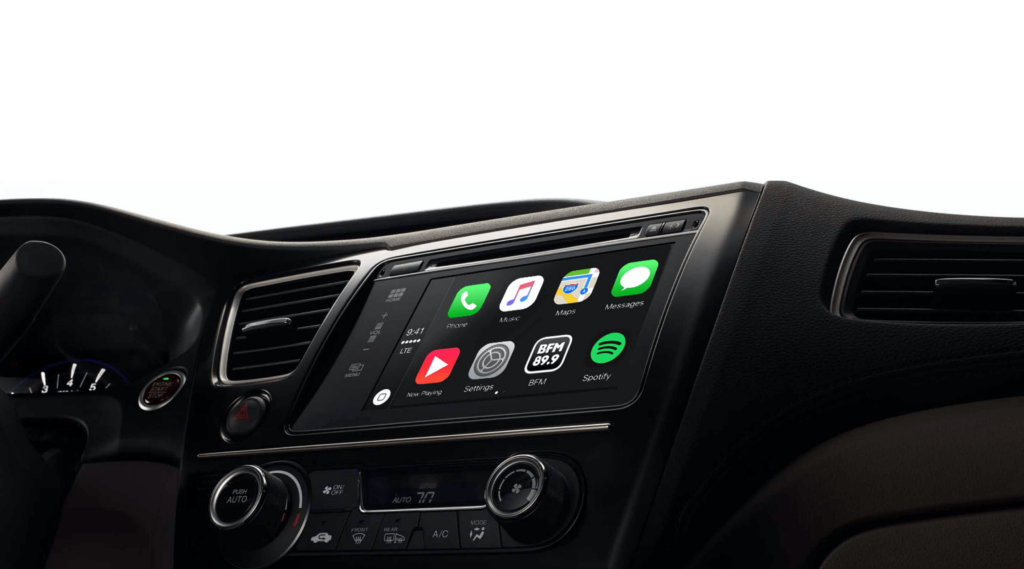 In a collaborative effort with BFM, we embarked on a unique project — designing the user experience for their first-ever radio app's CarPlay Apple feature. Due to CarPlay's constrained environment, designing a user interface that fits was the challenge we had to solve.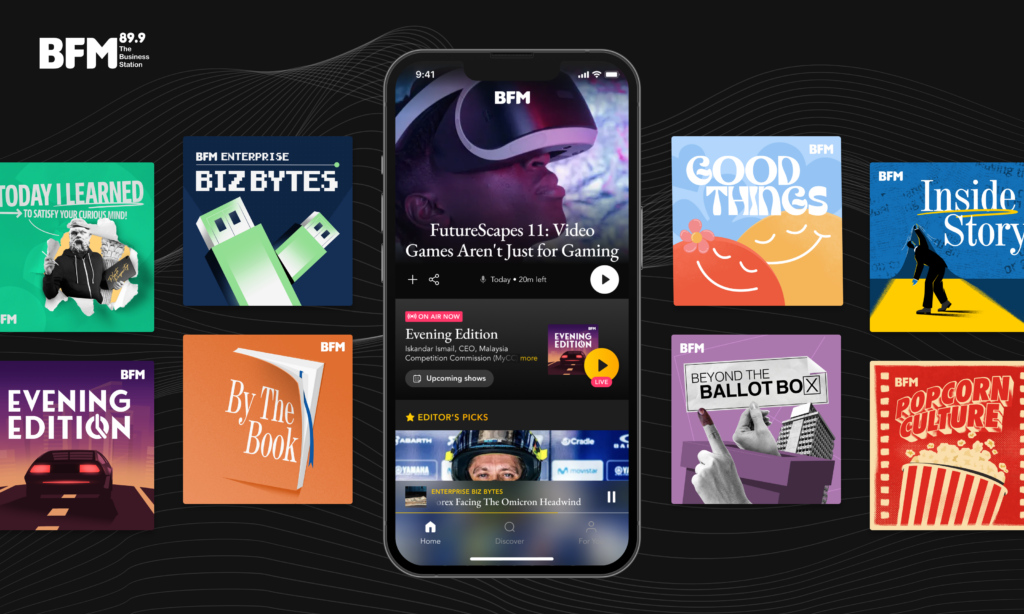 We approached this task with a critical and creative mindset, carefully considering what elements to include while maintaining an intuitive interface. We aimed to streamline content distribution, ensuring accuracy and timeliness without interruptions.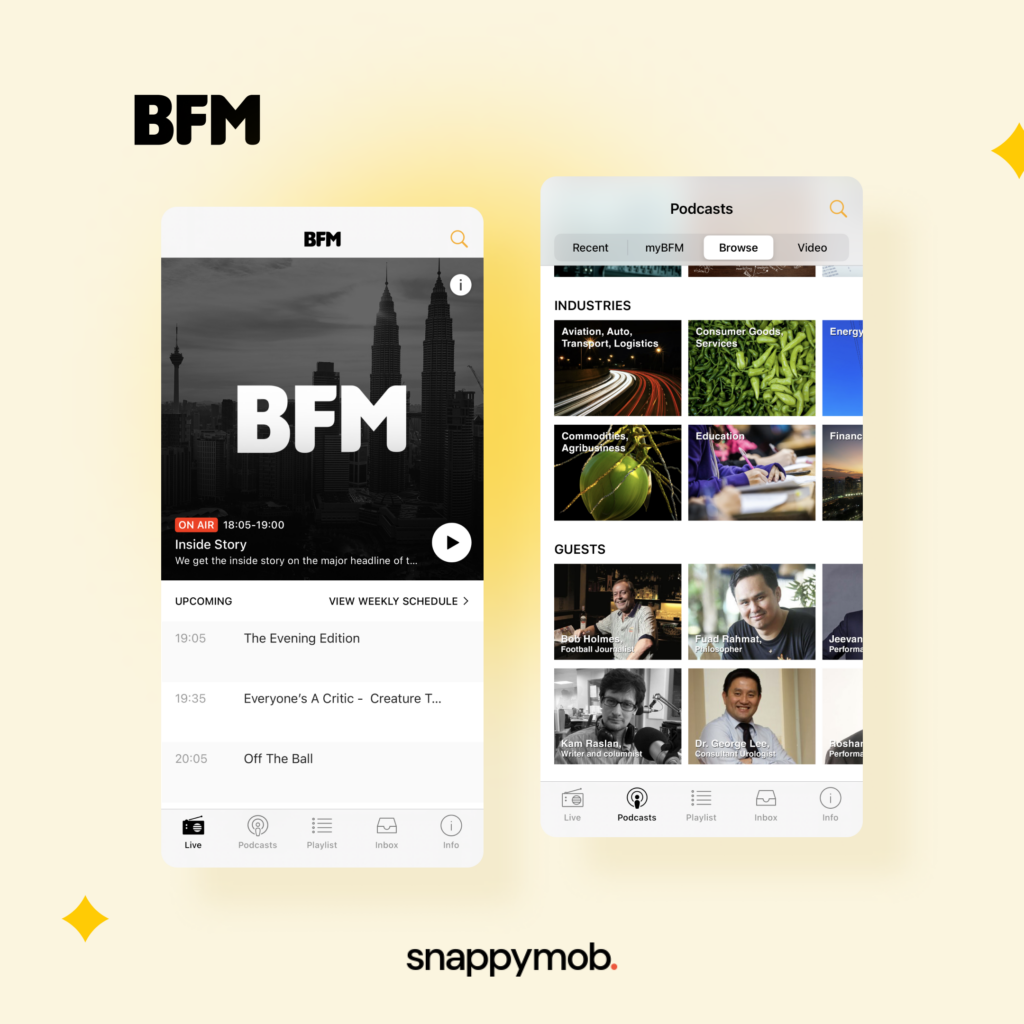 The result? A successful launch that left our client delighted and garnered substantial commercial coverage. This ability to tackle constraints head-on and craft innovative solutions established the evidence of our commitment to delivering exceptional UX design.
5. CoinGecko
Our journey with CoinGecko represents our commitment to transforming UI/UX design into an art form. The result is a design language that beautifully merges with CoinGecko's established brand identity while breathing new life into its platform with a fresh, modern, and confident perspective.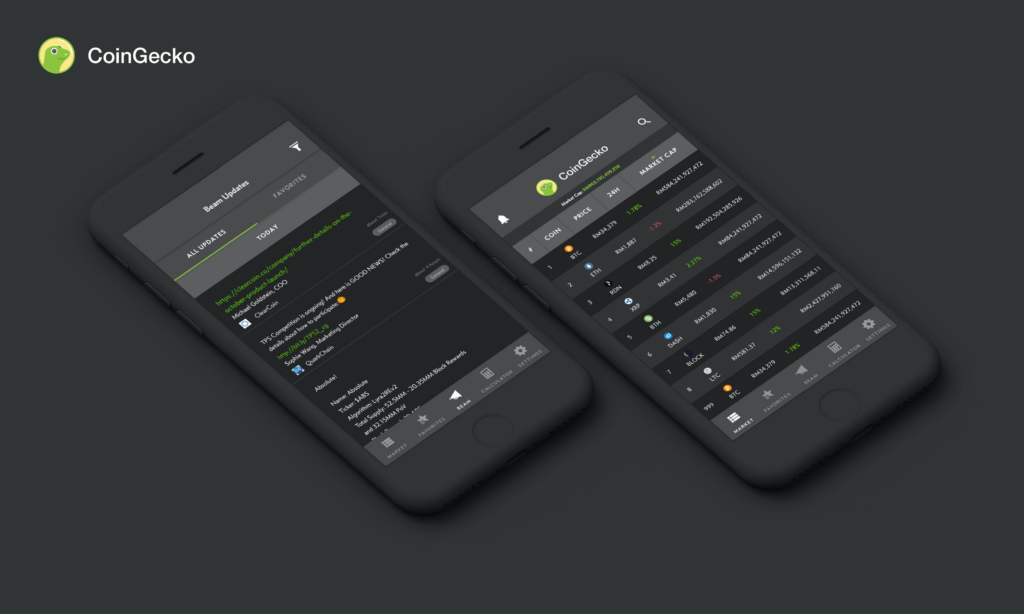 In a world of limited-screen real estate, we optimized user flows, data layouts, font size, and design harmony and balance to create an intuitive and visually appealing user experience. This project exemplifies our capability to transform UI/UX design into a strategic asset, elevating the user experience for our partners and reinforcing our position as a leading industry player.
Design Your Web Success With Us
A well-designed website is a gateway to an array of merits for your business. From an improved brand image to increasing conversion rates, a personalized web design is the future. And we are here to expedite the process for you.
With a rich portfolio showcasing diverse projects that have exceeded expectations, we have proven our ability to transform visions into captivating digital experiences. Our expertise in user-centric designs is here to turn your ideas into interactive masterpieces.
We'll craft a user experience that resonates, engages, and leaves a lasting impression on your audience. Have an idea already? Even better! Contact us today for a free consultation, and let's bring your vision to life.