2022 has been a rewarding for us. We were acknowledged of our resilience and dedication by the SME100 Awards, and we were able to celebrate one of our greatest milestone.
The year has taught us many important things. The most important thing being how important teamwork and collaboration are to creating impactful digital products.
This year, we delivered over 60 meaningful projects across various industries, such as finance, e-commerce, media, healthcare, and construction. It has been an unforgettable and productive year for our team here at Snappymob.
The Award
A while back, we were nominated in the FinTech Awards 2022 organised by the Wealth and Finance Magazine. Today, we are happy to share this exciting news with our dear readers.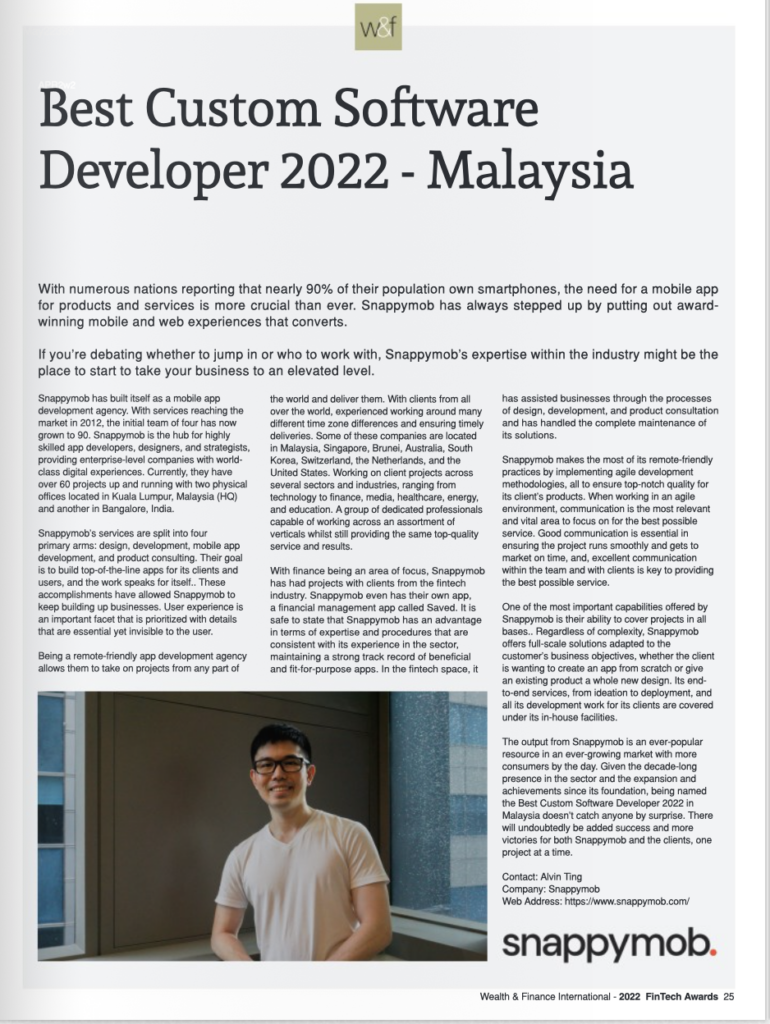 Our company has won the Best Custom Software Developer 2022 – Malaysia after a thorough review, which acknowledges individual excellence, corporate strength, and project success in the region's fintech industry.
If you are unaware of the Wealth & Finance magazine's FinTech Awards, here's a little something for you to grasp. The award honoured companies that modernized finance and banking to fit the changing needs of modern consumers
We feel honored to receive an award as an organization that continuously innovates and reinvigorates the financial environment.
Despite the quick pace of digitalisation and overwhelming amount of disruptive financial apps, Snappymob continues to thrive under pressure. We remained committed to digital innovation and transformation within the industry in order to deliver quality values with superior expertise.
About Snappymob
We are based in Malaysia, and we offer services for web and app design and development. Founded in 2012, our team has been creating awesome app experiences for our clients and their users.
We built our reputation by offering the best bespoke software solutions and experience while consistently going above and beyond. This award perfectly encapsulates our team's hard work and high-quality solutions.
We work with a global network of partners and offer our services worldwide.
Our dedicated project teams used Agile approaches and were responsible for ensuring the final product quality at every sprint. As the project progresses, our delivery approach enables our partners to manage priorities flexibly in a way that maximizes their return on investment.
Work with us
As one of Malaysia's top mobile app and web development companies, Snappymob helps multiple businesses around the globe to build suitable digital solutions that can make an impact and stand the test of time. We provide end-to-end product development services including website design, website development, website hosting, support, maintenance, and more.
Check out our work, learn about what it's like to work with us, or drop us a message to schedule a meeting with us — Consultations are free!